The INGREDIENT LIST printout...
The INGREDIENT LIST printout is used when analyzing recipes. It lists the ingredients in a recipe by weight from the most to the least, as is required on food package labels. The ingredient list also can be cut and pasted directly from FoodWorks into other programs, such as word processors.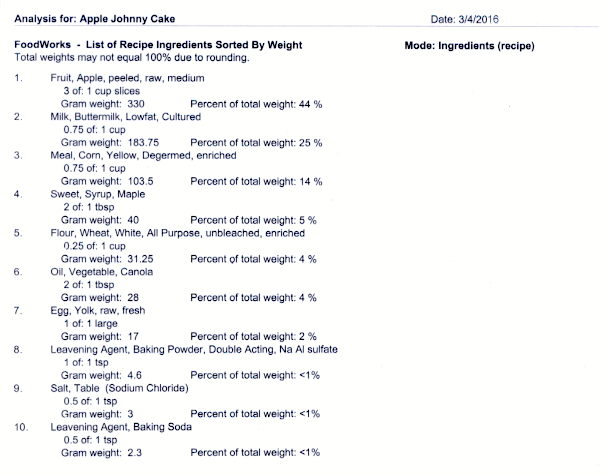 Or, use the Export function on the File menu to cut-and-paste this ingredient listing directly into your word processor or design/layout software to edit and modify to your exact needs:
LIST OF RECIPE INGREDIENTS SORTED BY WEIGHT

Fruit, Apple, peeled, raw, medium
Milk, Buttermilk, Lowfat, Cultured
Meal, Corn, Yellow, Degermed, enriched
Sweet, Syrup, Maple
Flour, Wheat, White, All Purpose, unbleached, enriched
Oil, Vegetable, Canola
Egg, Yolk, raw, fresh
Leavening Agent, Baking Powder, Double Acting, Na Al sulfate
Salt, Table (Sodium Chloride)
Leavening Agent, Baking Soda

FoodWorks produces many useful printed reports. All printouts include the Information Header, which contains the personal data and date of analysis. For recipes, the name of the recipe is shown along with the date. The personal data in the header can be turned off. These images are actual scans of reports generated in sample analyses. Information on the reports changes depending on selections you make and the type of analysis you perform. Some reports are generated in color. If a monochrome printer is used, the printouts are generated in grayscale. Almost all information on printed reports can be viewed on-screen. Please note that these samples are presented in screen resolution. The actual resolution and color you will obtain will be at the maximum level allowed by your printer.